News
One Direction fans are already confused over lyrics in new song 'Drag Me Down'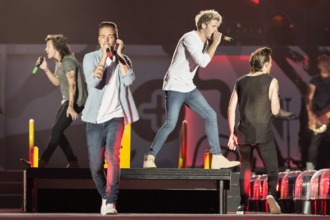 After Taylor Swift's "Starbucks lovers" lyric fiasco, you would think pop-stars would learn to pronounce their words properly - it seems not.
One Direction dropped their new song "Drag Me Down" out of nowhere and fans are already confused over one particular line: "I got a river for a soul and baby you're a boat".
In an attempt to rhyme the words "soul" and "boat", Harry – and later on, Niall – both seem to say "bow" instead of "boat", which doesn't really follow the aquatic theme of the line.
If you were mislead by their pronunciation, you're not alone. Even the lyric site Genius got it wrong.
Later in the song, Louis attempts to couple the words "left" and "best" which, on the surface, seems slightly bizarre but in practice seems to work, just. 
The single, the first from their up-coming album, is the first new 1D music for eight months. In the meantime the band have kept busy, with one member leaving while another is soon to become a father.
Check out the lyrics below.
I've got fire for a heart, I'm not scared of the dark
You've never seen it look so easy
I got a river for a soul and baby you're a boat (or bow)
Baby, you're my only reason
If I didn't have you there would be nothing left
The shell of a man that could never be his best
If I didn't have you I'd never see the sun
You taught me how to be someone, yeah
All my life you stood by me when no one else was ever behind me
All these lights that can't blind me
Nobody, nobody
Can drag me down
Source: www.msn.com
Added automatically
1222 views