News
This girl's selfie earned her an invitation to star in Rihanna's music video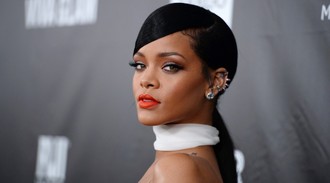 Imagine scrolling through Instagram and that all-too-familiar orange notification dot appears. You've got a new follower… it's Rihanna.
That's what happened to this incredibly lucky girl from Seattle, and she couldn't believe her luck when RiRi's name appeared on her social media feed.
Sanam became the apple of Rihanna's eye after the music star spotted a stunning selfie on her Instagram.
Weeks later a message appeared in Sanam's inbox from RiRi herself.
"She was like, 'Hey, I have this idea I want to run by you. I think you're so rare. Let me know if you're interested'," Sanam explained to Vice.
"I had no idea what she was talking about. I was just freaking out, because Rihanna is messaging me on Instagram, telling me that she thinks I'm cool."
Soon, the production company behind the BBHMM video was on the other end of the phone and two days later, Sanam was jetting off to LA to meet the superstar herself.
After learning about the concept of the video during the first few days, Sanam was told she was being cast as one of RiRi's super-tough henchwomen who kidnaps the wealthy wife of a man who owes the singer money.
"Rihanna's so sweet. She was showering us with compliments. She is so real and down-to-earth, which is the corniest thing to say about a famous person, but she really is," Sanam said – though we could've easily been fooled by the singer's intimidating on-screen persona.
So after starring in a music video for one of the hottest artists out there, how has life changed for the 25-year-old? Well, it hasn't, according to Sanam.
"The day after the video came out, I just went to work and everything was so normal there. My co-workers knew what was going on, but none of the customers who came in recognized me."
Ah, the power of the internet – if only we could be so lucky.
Source: www.msn.com
Added by AutoAdmin
492 views