News
Ringo Starr celebrates 75th with peace and love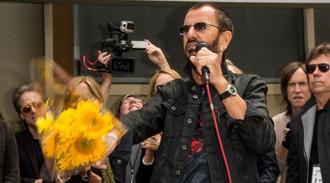 Beatles drummer Ringo Starr has marked his 75th birthday by celebrating peace and love with fans and famous friends in Hollywood.
Ringo was joined by his actress wife Barbara Bach, film director David Lynch, Eagles guitarist Joe Walsh and former Guns N' Roses drummer Matt Sorum, as well as scores of other musicians, for a street party in front of the Capitol Records building in Los Angeles.
The "peace and love salute" is an annual tradition for Ringo, who has been inviting members of the public to celebrate with him wherever he is in the world on his birthday since 2005 and spread positive messages on social media.
Speaking before the celebration, he told the Press Association: "It started by accident, we got lucky, somebody asked the question of what do I want for my birthday? I answered it, I said I wanted people to say 'peace and love' at noon on the 7th. We got lucky and it keeps carrying on and getting bigger, it's in Japan and Russia and of course in England."
Following the public event, he said he would continue celebrating his birthday in private. "We will be going back to our house and having dinner with people we know and hanging out."
Despite reaching the age of 75, he said he only feels 24, adding: "I'm a message of peace and love but some days I have a bad day, that's life. Life is good, life is for the living and the more peace and love and meditation I bring into my life the better I feel."
Ringo delighted fans by throwing bracelets bearing the words "peace and love" into the crowd and handing out biscuits iced with a peace sign.
Later he blew out candles lit by David Lynch on a huge birthday cake also bearing a peace sign, while Joe Walsh led the crowd in singing Happy Birthday.
Source: www.msn.com
Added by AutoAdmin
476 views