News
Kanye West's new album Swish 'leaks' on Reddit after listening party recording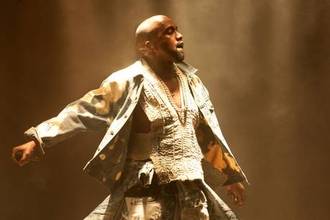 Kanye West's eagerly anticipated album has been leaked on Reddit.
A user named 'dxnxixlrxsxnxbxrx' claimed that they recorded the entirety of the album from outside of a building where West was holding a listening party.
The 59 minute clip was uploaded on the Hip Hop Heads subreddit, but was later removed.
Some fans questioned the credibility of the recording, but one was convinced that they heard West's vocals, posting: "It's low quality as hell but I'm hearing some new Ye vocals so I'm willing to bet that this is real."
Another reassured one fan, who didn't want to ruin the listening experience, by informing them that the quality was virtually "unlistenable".

"It's almost unlistenable, a bunch of gargles and white noise with snippets of vocals and lyrics here and there," they wrote. "You're not going to spoil anything by listening and you're not going to get any satisfaction because it's basically nothing."
West's follow up album to his 2013 hit Yeezus was originally called So Help Me God but he changed the title to Swish in May.
The rapper debuted the track All Day from the album at the BRIT Awards in February with much of the performance muted on ITV.
It is not the first time that the album has been heard. Theophilus London claimed to have been one of 20 people who were invited to a private listening party in Paris in September, while Seth Rogen revealed to Rolling Stone that he had a private listening session with West in a limo.
"There's no lyrics, only beats," Rogen told the publication of the experience. "So he raps the whole album, and after each song, he stops it, like, 'So what do you think?' We were in the van for two hours!"
Source: www.msn.com
Added by AutoAdmin
479 views