News
Elton John makes his DJ debut at 68 … and it goes like a rocket, man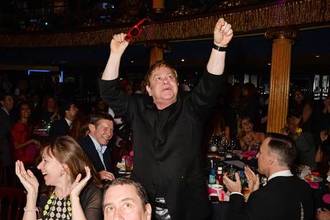 Sir Elton John has proved that at 68 you're never too old for a career change after making waves during his debut as a DJ on Apple's new radio service Beats 1.
The singer has been "over- whelmed" by the positive response to his one-hour programme and is now in talks for it to be made into a regular show.
He hand-picked a selection of his favourite old and new music for Elton John's Rocket Hour. Other artists who have now signed up to present Beats 1 shows include Pharrell Williams, Dr Dre and  St Vincent.
A source close to Sir Elton said: "He was very nervous about how the show would be received, as hosting a radio show is something that is very new to him. But what a lot of people don't realise is that he always has an ear to the ground — he has an extensive knowledge of new music and has always been about championing new artists.
"He has been overwhelmed by the response to the show and he now wants to do more. He absolutely loves it. Apple executives are delighted and Elton would love to make it into a weekly thing for the foreseeable future."
Sir Elton said about his show: "Music is all about learning, music is all about joy. Everybody at a particular moment in their life has a song that they'll always remember.
"It doesn't take long to put together, but that's the real fun part about doing it."
Apple is still collating listening figures for the radio service and has remained secretive about future plans. But an insider said the firm  was delighted with Sir Elton's debut and are very open to extending his run.
Source: www.msn.com
Added by AutoAdmin
509 views