News
Radiohead become favourite for Spectre theme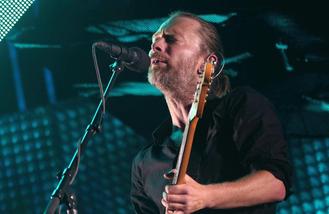 Radiohead are new favourites to have recorded the theme tune for the new James Bond film 'Spectre'.
The 'Fake Plastic Trees' band have overtaken Ellie Goulding as the most likely act to have worked on the coveted song, following a bet of £15,000 placed on the group by an anonymous customer in Middlesex, which has led bookmakers William Hill to suspend betting on the subject.
William Hill spokesperson Rupert Adams said: "The first gamble of the day was Ellie Goulding and punters were backing her as if she already had the gig but just as we were thinking of pulling the plug we had a load of bets for Radiohead including one customer who asked to place a £15,000 bet on the band at 10/1.
"There seem to be all kinds of rumours and the plot has had more twists and turns than a classic Bond tale, but surely nobody risks £15,000 on a hunch."
However, Ellie further fuelled speculation she had recorded the 'Spectre' theme yesterday (28.07.15) when she posted an image of herself leaving London's famous Abbey Road Studios on Instagram, as the tracks are typically recorded there.
Alongside the photo, she wrote: "That's a wrap!"
Several commenters were quick to make the association between the location and the upcoming Bond movie, which will be released in October.
Source: www.msn.com
Added automatically
752 views