News
Foo Fighters' Dave Grohl makes stage comeback on throne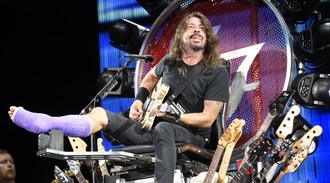 Foo Fighters frontman Dave Grohl made a triumphant return to the stage after breaking a leg, performing on a Game Of Thrones' inspired seat.
The 46-year-old musician, who was injured in Sweden in June, sat on the throne, made from guitars, lamps and an amp as he played at the Robert F Kennedy Memorial Stadium in Washington DC to celebrate Independence Day and the band's 20th anniversary.
It is the Foo Fighters' first show since Dave's incident, which happened when he fell off the stage during the second song, Big Me.
They were then forced to cancel part of their European tour and a headlining set at Glastonbury.
Dave, whose leg was in a cast, told the crowds: "A funny thing happened to me a couple of weeks ago. I fell off the f*****g stage.
"So then I went to the hospital… had surgery… [but I said] I'm not missing this show for the world. Nothing is impossible!"
Dave revealed how he came up with the idea of the throne, complete with "guitar arms" for decoration and "lasers and s**t shooting from the top" while he was recovering.
"I was as high as a kite when I drew that," he added, laughing.
Dave's mother made a surprise appearance at the gig during For All The Cows, which marked the 20th anniversary of the debut of the Foo Fighters' self-titled album. It was also close to where the former Nirvana drummer grew up in northern Virginia.
Source: www.msn.com
Added automatically
692 views