News
The Libertines new album: Anthems For Doomed Youth gets release date and track list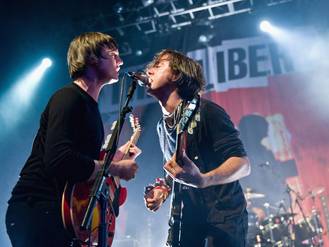 The Libertines have revealed details of their first new album in 11 years after playing a hugely popular surprise set at Glastonbury last Friday night.
Pete Doherty, Carl Barat, John Hassall and Gary Powell will return with Anthems For Doomed Youth on 4 September, with the tracklist (seen in full below) including several songs the band have been performing live, such as "Gunga Din".
The record's deluxe edition will feature four bonus tracks recorded in Thailand during frontman Doherty's stint at the Hope Rehab Centre to get clean from drug addiction.
Doherty told NME last month that he thinks fans are "going to love" the new album. "There's a miracle aspect to actually getting it done and all getting together to do it," he said. "We're all really proud of it."
Barat added that the group's style has "definitely moved on" and they are "not just repeating [themselves]".
The Libertines first formed in London in 1997 and spearheaded the garage rock revival movement in the UK, rising to mainstream fame in the early 2000s.
The group split in 2004 after the relationship between Doherty and Barat became strained (resulting in hit "Can't Stand Me Now") but reunited in 2010 for the Reading and Leeds Festivals. A series of high profile gigs followed last year, notably London's Hyde Park on 5 July.
Anthems For Doomed Youth
"Barbarians"
"Gunga Din"
"Fame and Fortune"
"Anthem for Doomed Youth"
"Heart of the Matter"
"Belly of the Beast"
"Iceman"
"You're My Waterloo"
"Fury of Chonburi"
"The Milkman's Horse"
"Glasgow Coma Scale Blues"
"Dead for Love"
"Love on the Dole" [Bonus]
"Bucket Shop" [Bonus]
"Lust of the Libertines" [Bonus]
"7 Deadly Sins" [Bonus]
Source: www.msn.com
Added automatically
938 views