News
Finlay Quaye kicked off stage by promoter after failing to deliver 'professional performance'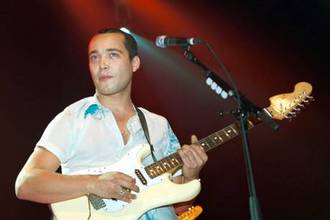 Finlay Quaye was booed and kicked off stage after failing to turn up for a sound check and arriving on stage an hour late.
Quaye was told to leave the stage just 30 minutes into his set by promoter Matt Roberts who blasted Quaye for failing to deliver a "professional performance".
In footage recorded at the gig Quaye – who is famous for songs including Even After All and Sunday Shining – can be seen barely strumming his guitar with his back mostly to the audience.
Roberts then joins Quaye on stage before telling him to leave, telling the audience: "Im so sorry guys. I've worked in the industry for 20 years - I have a reputation.
"I have a beautiful crowd of people and [Quaye] come and they f*** my stage...You guys go home."
He then promised to refund the tickets – which cost £20.
In a statement on Facebook, Roberts – who owns the Convent Club in Woodchester where Quaye was playing – explained his decision to boot the band off.
He wrote: "It's not a personal attack on the musician whom I've always held in high regard, and whose current lack of management of his talent I find incredibly frustrating.
"It's more that my passion for live music, all that live music engenders, creates and inspires is so strong.
"We've all had struggles, big and small, and creativity, our own, or that of artists who inspire us, is often the intangible guide that see us through our hard times and intensifies our good times."
Source: www.msn.com
Added automatically
724 views