News
Ozzy Osbourne 'feels guilty' over cancelled Black Sabbath gigs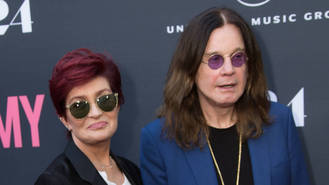 Ozzy Osbourne is feeling guilty after cancelling a string of Black Sabbath concerts, due to illness.
The frontman's severe sinusitis led to three cancelled gigs in Canada over the past week, but he is on the road to recovery and hopes to return to the stage at the Tacoma Dome in Seattle, Washington on Saturday (6Feb16).
Discussing her husband's improved condition on her U.S. chat show The Talk on Thursday (04Feb16), Sharon Osbourne assured fans, "He's doing so much better. He had sinusitis which led to bronchitis. And he said he felt like he had the Pacific Ocean in his ear. He couldn't hear properly. It's been a nightmare."
She reveals the sickness has also taken a toll on Ozzy's conscience and he feels he bears all the responsibility towards those employed as part of the tour.
Sharon said, "To have a responsibility of performing with his band Black Sabbath, the crew, the fans, even the opening act - they're just sat at home, waiting, waiting, waiting. And he feels that huge responsibility. He feels guilty for being sick. He's on the mend and he will be in Seattle on Saturday. He will be ready to work."
Black Sabbath are currently touring together for the last time after announcing dates for The End world trek last year (15). The heavy metal group has been active since 1986 and are responsible for classics like Paranoid and Never Say Die!
Source: www.msn.com
Added by AutoAdmin
545 views