News
Lady Gaga bowled over by Superbowl performance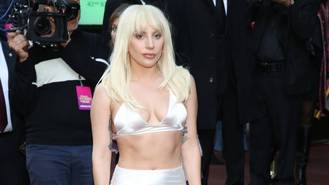 Lady Gaga's performance of the U.S. National Anthem at Superbowl 50 on Sunday (07Feb16) came from the heart.
The Born This Way singer was a big hit as she belted out The Star-Spangled banner like a true diva at Levi's Stadium in Santa Clara, California, and her operatic performance instantly set social media alight as fans and peers showered her with praise.
Following in the footsteps of Whitney Houston, Christina Aguilera, Beyonce, and last year's (15) anthem singer, Idina Menzel, Gaga shared with Extra how she went about preparing to put her own stamp on the tune.
"I just thought about the lyrics and what they really mean," she said. "They've been around a long time, so I thought about what they mean now, I just sang from my heart.
"It's kind of ancient history stuff, in the Greek and Roman history, performing for the greatest athletics in the world is the highest honour. I'm Italian and European, so, for me, it was such an honour as an American."
The 29-year-old, who was accompanied to the Super Bowl by her mother Cynthia as fiance Taylor Kinney supported her from home, did her best to take in as much of the occasion as possible and not let it pass her by in a blur.
"It was really amazing, the athletes were just kind of majestic standing up there, singing for the fans in the stands and all over the world, it was so cool," she said.
And she really enjoyed looking up as she closed out the anthem and watched jets fly overhead: "I promised myself I was going to look up to see them, because that would be the only time (I'd get to do something like that)."
Gaga's stirring rendition was a hit with fans, as was her sparkly red Gucci suit.
Comedienne and U.S. TV personality Ellen DeGeneres admired the outfit, joking on Twitter: "Love you so much, @ladygaga. I'm so glad I loaned you my jumpsuit."
Source: www.msn.com
Added automatically
664 views