News
Sir Elton John recalls his most infamous tantrum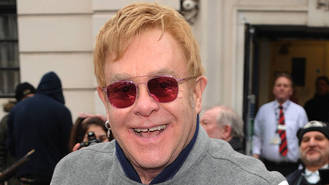 Sir Elton John asked a hotel concierge to "do something about the wind" in one of his most of his memorable tantrums.
The 68-year-old singer has hit headlines for various diva strops over the years. During a chat with James Corden on his famous Carpool Karaoke segment of his show on Sunday night (07Feb16), Elton admitted there is one incident in particular that sticks for being one of those that showed just how far from reality he was.
"I'd been up for a couple of days at the Inn on the Park hotel as it was called then, on Park Lane, and I was still up at 11am," he explained. "I rang the office and spoke to a guy called Robert Key and I said, 'Robert, it's far too windy here can you do something about it?' And I can just imagine him putting his hand over the receiver and going, 'God he's finally lost the plot… can you do something about it?' It wasn't a tantrum as such but as reality goes it was pretty far off the chart."
The Your Song singer is now more than aware of just what a tantrum can entail as he is father to five-year-old Zachary and three-year-old Elijah with husband David Furnish.
While fatherhood is a massive undertaking, Elton insists there has never been a moment he has regretted welcoming his boys into his life.
"I love it. They've been amazing," he said. "I haven't had one second in Zachary or Elijah's life where I've felt they've been getting on my nerves.
"And I can't believe I'm telling you this because if you'd told me 10 years ago I'd be sitting in a car and saying this I'd have said you're crazy. But it has changed my life. I thought I was too old to be a dad, and I'm not too old to be a dad - you're not too old to do anything you want to do. And those kids have changed my life completely, have changed our lives completely."
Despite the fact that Elton has been churning out hit after hit since the late 1960's, he has no intention of retiring anytime soon. It's the emergence of hot new artists such as British singer-songwriter Ed Sheeran that helps inspire him to continue breaking new ground.
"I'm only looking forward, I don't look back," he said. "And when you first hear something new from someone like Ed Sheeran or this girl called Grimes or there's a girl in Australia called Sarah Blasko. And whenever you hear something that inspires you from the young ones, it makes you feel, 'I'm going to do that, I want to do that'. I still have the energy of a 20-year-old and I want to carry on. I just don't see the point of setting up shop. Once you stop, you die."
Source: www.msn.com
Added automatically
661 views