News
Justin Bieber cuddles up to mother Pattie after two years of 'non-existent' relationship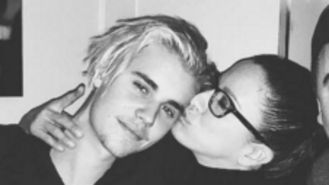 Justin Bieber and his mother Pattie Mallette reunited on Monday night (08Feb16) after almost two years of having a "non-existent" relationship.
The 21-year-old singer and his mother went out for dinner at The Nice Guy in Los Angeles, with Justin later posting an image of their evening.
In the snap, Pattie is seen tenderly kissing her son on his forehead, while Justin smiles bashfully for the camera. He captioned the shot: "Love love love."
As Justin arrived at the eatery, he was seen wearing his long blonde hair in a man bun, which he then took down for the picture. Pattie, 39, looked incredible in an all-black outfit which she teamed with a pair of glasses and wore her hair up in a high ponytail.
Justin admitted during an interview with Us Weekly back in November (15) that his rebellious behaviour had seen him become more distant from Pattie, because he was ashamed of his actions.
These included egging a neighbour's house, heavy partying and an arrest for driving under the influence, which all occurred between 2013 and 2014.
"I was distant because I was ashamed," he said at the time. "I never wanted my mom to be disappointed in me and I knew she was. We spent some time not talking, so it takes time to rebuild that trust. She's living in Hawaii now, so it's hard, but getting better. She's an amazing woman and I love her."
Pattie gave birth to Justin when she was just 17 and raised him as a single mother. She has been credited with helping kickstart Justin's career after posting videos of him singing online - one of which was spotted by Justin's manager Scooter Braun.
She revealed during an interview in 2013 that she was finding it difficult to watch Justin's downward spiral.
"If it affects the world the way it does, imagine how it affects me as a mom seeing these headlines," she told Extra. "I have to talk to him and have our conversations."
Justin has been doing his best to turn his life around in recent years, and has enjoyed a musical comeback thanks to his album Purpose.
Source: www.msn.com
Added automatically
683 views