News
Ariana Grande changes LP title to Dangerous Woman?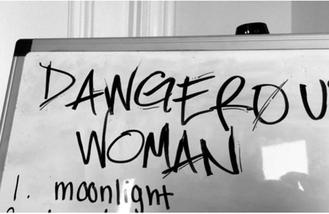 Ariana Grande has teased that she's changed her album title to 'Dangerous Woman'.
The 'Love Me Harder' hitmaker originally called her eagerly-anticipated third LP 'Moonlight', but hinted that she was likely to rename it last month when she appeared on 'The Tonight Show with Jimmy Fallon'.
And now the 22-year-old pop beauty has posted an update on her Snapchat account with a photo of a whiteboard with 'Dangerous Woman' at the top and the start of a tracklisting just showing the first song as 'Moonlight'.
The new album name comes from a track the singer wrote during the final stages of the forthcoming release.
Talking about the track, she said: "A really long time ago I was convinced that it was going to be called 'Moonlight' because it's one of my favourite songs that we did for the album.
"And now, as we're wrapping things up, of course I've been writing and singing, we're at the final stretch...now there's this other song that has thrown me for a whirlwind and I love it so much, it's changed everything."
Ariana previously dropped the first single 'Focus', which peaked at number seven on the Billboard Hot 100 when it was released in October.
So far the tracks include 'Dangerous Woman', 'Moonlight' and 'Focus'.
The LP is yet to be given a release date.
Source: www.msn.com
Added by AutoAdmin
540 views