News
NME winner Grimes: I'm still uncomfortable in the spotlight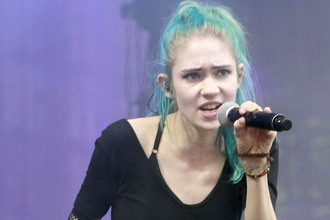 Singer Grimes says she is uncomfortable in the spotlight and until recently considered herself "very ugly".
The Canadian star, who is signed to Jay-Z's label Roc Nation, also said she no longer takes drugs after some of her close friends died because of substance abuse.
She told ES magazine: "I was always a very ugly person until recently. I had terrible hair and bad skin. So the whole thing is pretty odd.
"My self-identity is so strongly based on my abilities as an artist and as a producer and an engineer, I'm allergic to the idea of ever being evaluated on my physical appearance.
Rising star: Grimes is getting used to life in the spotlight
"When people are like, 'Marry me, Grimes' — I'm like, AGHHHGH! It's every day: 'Marry me, marry me!' It's so weird."
Grimes, whose real name is Claire Boucher, was propelled into the mainstream with her last album, Art Angels, which was named NME's album of 2015.
But she will not be succumbing to the temptations of fame, saying: "I've had a couple of very close friends die related to complications due to drug abuse. It can't be part of my life any more.
"If you meet kids after a show and they're like, 'Yeah, Grimes, I want to do drugs with you,' it's f***ing scary when 13-year-olds are like that. You're like: 'Oh my God, I'm like ruining the world.'"
Source: www.msn.com
Added by AutoAdmin
548 views