News
Madonna accused of 'disrespecting' Philippines flag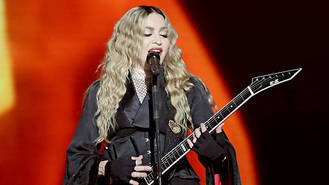 Madonna is facing a potential ban from the Philippines for allegedly "ridiculing" the country's flag during her recent concerts.
The Material Girl star performed sold out shows in Manila on Wednesday (24Feb16) and Thursday (25Feb16) as part of her Rebel Heart Tour, and during her gigs, she wrapped the country's flag around her body, letting some of the fabric hit the floor.
Laws in the conservative country state the flag cannot be worn and is not allowed to touch the ground.
"She ridiculed our flag," Teodoro Atienza, chief of the heraldry section of the National Historical Commission of the Philippines, told local radio station dzBB.
"They may face deportation and might not be able to return to the country," Atienza added. "She also allowed the flag to touch the stage floor, which is another violation."
The controversy comes days after Singapore Archbishop William Goh urged Catholics not to attend her show on Sunday (28Feb16) because of her "disrespectful" use of religious symbols and props during her gigs, and her "blasphemous" music.
Meanwhile, Madonna stirred up more controversy earlier this week (begs22Feb16) when she hit the stage in Macau, China and pulled a male fan from the audience to take part in a raunchy segment involving a simulated sex act with a banana.
The Queen of Pop was unaware the man was famous Cantonese singer Eason Chan, and after struggling to pronounce his name, she then handed him a banana and asked him how he would lick it.
Chan politely declined, revealing his daughter was watching in the audience.
Source: www.msn.com
Added by AutoAdmin
512 views