News
Florence Welch's new film explores break-up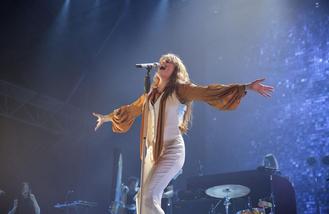 Florence Welch explores her "car crash relationship" in her new musical film 'The Odyssey'.
The 29-year-old singer's personal "heartbreak" is documented in the 40-minute short, which she made with filmmaker Vincent Haycock and premiered at London's Rio Cinema on Wednesday night (20.04.16).
Florence - who went through agony after splitting from events worker James Nesbitt in 2013 - has described the film as "the car crash of a relationship break-up I was going through" and said making it allowed her to "understand and exorcise" the emotions she felt following the couple, who dated for just over a year, parted ways.
The Florence + The Machine frontwoman - who, prior to James, dated Stuart Hammond, but separated from him in 2011 after three years as his girlfriend - encompasses a different "battle" she's been through in each song on the record and for each chapter of the movie.
Director Vincent revealed: "'The Odyssey', like the epic poem by Homer, is a journey. It's Florence's personal journey to find herself again after the emotional storm of a heartbreak. Like the layers of Dante's purgatory, each song or chapter represents a battle that Florence traversed and physical landscape that embodied each song or story. It's a metaphorical journey about escaping your demons, confronting yourself and returning to the original Florence, the dancer, the performer, the lover."
The film accompanies Florence + The Machine's third studio LP 'How Big, How Blue, How Beautiful' - which Florence has previously admitted is inspired by her break-up from James - and features a new ending to the song 'Third Eye'.
The flame-haired singer will stream the film via official website Florenceandthemachine.net from Thursday (21.04.16).
Source: www.msn.com
Added automatically
664 views