News
Meghan Trainor: 'My phone was hacked after the Grammys'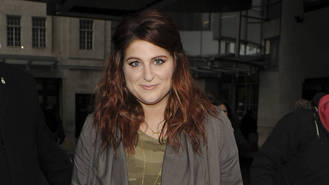 Singer Meghan Trainor's phone was hacked after she won her first Grammy Award earlier this year.
The All About That Bass star was named Best New Artist at the music ceremony back in February (16), and gave a tearful acceptance speech in front of her parents and peers, but hours later, her joy became shock when she received an abusive text message on her mobile phone.
"I actually had my phone hacked after the Grammys," she told the Official Charts website. "I remember the night of the awards was the best of my life, and Miguel actually came up to me and said, 'Just wait until tomorrow, because you'll realise it's not just a dream'.
"I woke up to two texts saying 'You fat c**t, you don't deserve that award, please give it back', so I was like, 'I don't feel better today, yesterday was much better than today thanks!'
"I didn't want to let it affect me, but it so did, and it really hurt. I'm over it now, and when the award itself arrives it will be like a new gift I know I deserve."
Despite the horrific messages and the sick 'body-shaming' criticism aimed at the 22-year-old, she insists she won't be quitting anytime soon, and she can't wait for the reaction to her new album, Thank You.
The record's first single, No, marks a new direction for Meghan, and she admits she was a little nervous about it.
"Before I wrote and recorded No, I was being told by my label that I didn't have a lead single," she revealed. "My producer (Ricky Reed) and I said, 'Let's make a beat that Meghan Trainor wouldn't do', and this is what came out. We were producing and writing it at the same time, and with the guitar bit, I said I wanted it to be like (Britney Spears song) Overprotected, Destiny's Child, N'Sync... There was a fear that it's been done before, and whether I could bring it back because no one has done that yet."
Meghan was worried people would write the track off as a "90s thing", but she insists it was music she wanted to listen to herself.
"What do I miss on the radio? I miss hearing N*Sync and Britney Spears coming on, and they were all produced by Max Martin, and I loved that," she said.
Source: www.msn.com
Added automatically
692 views