News
Victoria Beckham was never comfortable as a Spice Girl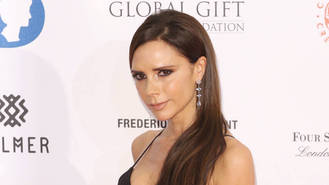 Victoria Beckham "always felt uncomfortable" in the Spice Girls.
Simon Fuller, the fashion designer's former manager, helped launch her career in the music industry, with her going on to join the bestselling female group of all time, the Spice Girls, whose debut album Spice sold more than 30 million copies worldwide.
However, Simon, 55, reveals that Victoria never quite felt at home making music and only found her "true vocation" when she quit the industry and began working on her fashion.
Speaking at the Business Innovation Awards in Los Angeles, Simon explained, "Victoria, coming out of the Spice Girls, being married to David Beckham, launched a solo career. She never felt comfortable. Even in the Spice Girls - it was great fun, she was in the world's biggest group for two or three years - but she didn't feel comfortable."
Although the mother-of-four went on to enjoy brief success as a solo artist, Simon explained that design has always been her true "passion".
"She could sing pretty well, she could dance pretty well, but she always felt uncomfortable," he said.
Simon masterminded the Spice Girls rise to fame, and under his guidance they became a global phenomenon on a par with '60s group the Beatles' Beatlemania, earning $500 million (£340m) – $800million (£550m) between 1996 and 1998.
When the Spice Girls broke up, despite enjoying some success as a solo artist, Victoria was ready to move on and went to Simon for advice.
"I've known Victoria since she was 18 and her passion in life was always clothes," he shared. "She was called Posh Spice because she always wore the best dresses and she knew everything about clothes. I said 'You should be in fashion. You should be a designer'."
Within a few years, with Simon's help, Victoria, now aged 42, made the leap from footballer's wife to internationally renowned fashion designer launching her eponymous label in 2008.
Simon was named the Entrepreneur of the Year at the seventh annual Business Innovation Awards, for his success across music, television, sport and fashion.
He also created Fox's American Idol and has been named by TIME magazine as one of their 100 most influential people in the world.
Source: www.msn.com
Added automatically
639 views