News
Alicia Keys set to debut new music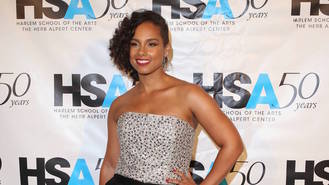 Alicia Keys will debut new music from her upcoming album next month (May16).
The Grammy Award-winning singer will be making the first-ever live musical performance as a part of the opening ceremony for the UEFA Champions League Final in Italy on 28 May (16), and she plans to use the platform to introduce new songs to fans. The multi-talented star has been working on a follow-up to her 2012 studio album Girl on Fire, but remains coy about exactly which songs she will perform at the event, which will be broadcast to 220 countries and is expected reach an estimated global audience of 180 million viewers.
"I have to leave it as a surprise for sure 'cause that's part of the fun of it," Alicia told Billboard magazine. "But you're definitely going to hear some new music."
With a global stage to launch her new work, the 35-year-old is keen to put her own creative stamp on the show, which will be held at Stadio Giuseppe Meazza in Milan.
"It's pretty insane. I know there is going to be 80,000 people there in person and people are all over the world are going to witness it and watch this and celebrate," she shared, adding that she believes music transcends language and everyone watching will be able to "understand the emotion" she conveys.
Alicia also spoke about how she is looking forward to returning to Italy, as it is a place that she considers to be a second home.
"My mother's family is from Italy, so whenever I go, I always feel the most loved," she explained. "I feel like it's a homecoming of love in a lot of ways."
The mother-of-two added is excited about being a musical guest on Saturday Night Live on 7 May (16) too, and appearing as a judge on the next season of NBC's The Voice, alongside Adam Levine, Blake Shelton and Miley Cyrus.
Source: www.msn.com
Added automatically
645 views