News
Tony Visconti apologises to Adele: 'She has a great voice'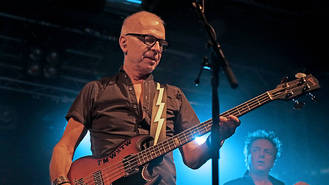 Tony Visconti has apologised for offending Adele.
The legendary music producer hit headlines last week (ends10Jun16) when he questioned whether or not the singer's famously soulful voice is the result of studio trickery.
Tony, 72, who produced many of the late David Bowie's most famous albums, told Britain's Daily Star newspaper that he believes it's impossible to tell whether Adele's voice is naturally as strong as it sounds in her hits like Hello, due to modern production techniques.
"You turn the radio on and it's fluff - you are listening to 90 per cent computerised voices," he said. "We know Adele has a great voice but it's even questionable if that is actually her voice or how much has been manipulated. We don't know."
Last year (15), Adele did admit that her voice changed considerably after undergoing throat surgery in 2011, but that doesn't mean she's taking Tony's comments lightly and she hit back at a recent concert. In a clip uploaded to Twitter on Friday (10Jun16) by a fan, the singer can be heard saying, "Some d**khead tried to say that my voice was not me on record... suck my d**k. Why don't you come to a show, my darling?"
Tony has now come forward to say sorry for causing any offence with his remarks, insisting he is a big fan of Adele's talent.
"I'm sorry that what I said in regards to what's being played on radio was misconstrued yet I cannot apologise for something taken the wrong way," he told Billboard.com. "If Adele has taken my comments as offensive that was certainly not my intent.
"Adele has a great voice and it brings pleasure to millions."
Source: www.msn.com
Added by AutoAdmin
523 views