News
Lady Gaga's tears for Orlando victims at Los Angeles vigil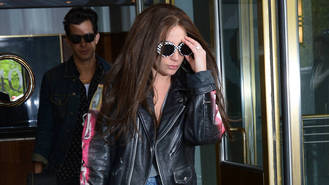 Lady Gaga has deemed the Orlando nightclub shooting "an attack on humanity itself".
The 30-year-old singer made a surprise appearance at a Los Angeles vigil following Sunday's (12Jun16) tragic events in Florida, where 49 people lost their lives and countless more were injured when gunman Omar Mateen opened fire in Pulse nightclub.
Gaga shunned her usual outrageous style and opted for an all black ensemble to mourn those who had lost their lives. Speaking to the thousands gathered outside Los Angeles City Hall for the vigil, Gaga said: "As we have now witnessed the largest mass shooting in American history, I can't help but feel that this level of hatred, like all prejudicial crimes, this is an attack on humanity itself.
"Tonight, I gather humbly with you, as a human being, in peace, in sincerity, in commitment, in solidarity, to take a real moment and mourn the tragic loss of these innocent, beautiful people."
Struggling to control her emotions, Gaga broke down in tears as she read out the names and ages of the 49 victims of the horrific event.
She added to the crowd: "Tonight I will not allow my anger and outrage over this attack to overshadow our need to honour those who are grieving truly for their lost ones, lost members of the LGBT community. I hope you know that myself and so many are your allies."
Gaga had been scheduled to attend an Emmy For Your Consideration event for American Horror Story: Hotel, on Monday, but the event was cancelled following the Orlando shooting.
The singer, who has long been a campaigner for LGBT (lesbian, gay, bisexual and transgender) rights, first spoke of her grief following the mindless shooting on Twitter on Sunday, writing: "I pray for all the victims families during this shooting epidemic. That their pain be met with compassion and support from the world."
"It's a traumatising and emotional time for a many people. I dream of the world reflecting on what we can do to change this violence. #Orlando."
Source: www.msn.com
Added by AutoAdmin
595 views