News
Dame Shirley Bassey to help Blake write Bond theme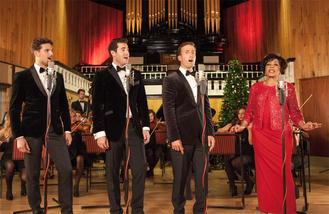 Dame Shirley Bassey is being roped in to write a James Bond theme with vocal group Blake.
The 79-year-old singing legend - who recorded the vocals for 1964's 'Goldfinger', 1971's 'Diamonds Are Forever' and '1979's 'Moonraker' - has never written her own Bond song, but that could be about to change as Stephen Bowman from the Brit-Award winning trio has revealed they going to "wrack her brains" to write one.
He exclusively told BANG Showbiz: "Dame Shirley has been in the lucky position of other people giving her fantastic Bond themes so it's a very different thing, writing one and putting one forward. I know that Dame Shirley always says she feels very privileged to have been the only person to have the number of Bond themes that she's sung over the years - normally people only get the one chance and there she is three times, so it's quite unique and she certainly has a lot more knowledge about what makes a good Bond song than anyone else and we'll be sure to wrack her brains."
Meanwhile, the 'Big Spender' hitmaker will be performing with Blake as a special guest at Henley Festival next month and they plan on surprising her with a few luxurious gifts.
Stephen, 36, added: "We've got to know Dame Shirley very well and there are some gifts that she always appreciates - most likely we'll pop her a really good bottle of rose champagne, possibly a little bit of Caviar as well because she does like the finer things and quite deservedly so."
Blake and Dame Shirley Bassey play Henley Festival on Saturday July 9 on The Floating Stage with the BBC concert Orchestra.
Source: www.msn.com
Added automatically
845 views