News
Joey Jordison was fired from Slipknot by email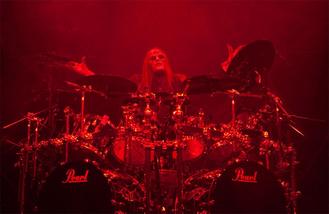 Slipknot drummer Joey Jordison was fired from the band by a "stupid f**king email".
Both the heavy metal band and Joey have remained silent over his departure in December 2013, but now the 41-year-old sticksman has lifted the lid on the "cowardly" manner he was dismissed from the group he had been a part of since their formation in 1995.
Speaking to Metal Hammer magazine, Joey said: "No band meeting? None. Anything from management? No, nothing. All I got was a stupid f***ing email saying I was out of the band that I busted my ass my whole life to f***ing create.
"That's exactly what happened and it was hurtful. I didn't deserve that s**t after what I'd done and everything I'd been through."
The drummer claims he was fired because the other members of the band thought he had a problem with drink and drugs, but he insists the health issues that made it difficult to play are due to a rare disease of the nervous system he suffers from.
He explained: "They got confused about my health issues and obviously even I didn't know what it was at first. They thought I was f***ed up on drugs, which I wasn't at all. I've been through so many things with those guys and I love them very much. What's hurtful is the way it went down was not f***ing right. That's all I want to say. The way they did it was f***ing cowardly. It was f***ed up."
Despite feeling hurt at the way in which he was dispatched Joey says he still has a lot of love for his former band members and said a reunion would be "f***ing awesome".
Joey - who played drums on four Slipknot albums - said: "I'd want to see them, just hug it out and feel that energy that we had when we were f**king young and hungry and all that s**t.
"They're my brothers. We'd hug and talk and do s**t like we used to do. We used to sit up all night along planning this s**t and what we wanted to do. So that's how I'd wanna do it."
Source: www.msn.com
Added by AutoAdmin
400 views