News
Led Zeppelin's Robert Plant claims he can't remember meeting Spirit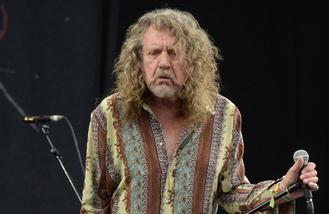 Led Zeppelin's Robert Plant has claimed he doesn't remember meeting the band he's been accused of copying.
The 67-year-old singer and his former bandmate Jimmy Page have been accused of snatching the intro to their classic rock song 'Stairway to Heaven' - which they co-wrote and released in 1971 - from Spirit's 'Taurus'.
But he told the federal court in Los Angeles on Wednesday (21.06.16) that he has no recollection of associating with the band at Birmingham's Mothers club in 1970 after he was involved in a serious car crash with his wife that night.
He told the courtroom: "I did have a bad car accident. Part of the windshield buried in the top of my head, which was interesting. I don't remember a thing. I can't recall Spirit or anybody else playing there with the passing of time. I don't have a recollection of mostly anyone I've met."
Despite claiming he struggled to remember anything from back then, Robert did manage to recall how he wrote the lyrics to the famous track after Jimmy had played some of the song to him at Headley Grange in Hampshire.
He explained: "That particularly evening I sat with Jimmy by the fire. He began playing. I had these couple of lyrics which fit with what he was playing. I was trying to bring in the beauty and remoteness of pastoral Britain. It developed into something I could not imagine."
The band - which was comprised of Jimmy, Robert, John Paul Jones and the late John Bonham - have been forced to stand trial after Michael Skidmore, a trustee for the late Spirit guitarist Randy California - accused them of plagiarism.
Lawyers for Led Zeppelin asked Judge R Gary Klausner to throw out the case before it went to the jury, but he refused.
The estate of Randy, who drowned in Hawaii in 1997 trying to save his 12-year-old son from a rip current, want him to be given a writing credit on the track and share of royalties.
Shortly before he died at the age of 45, Randy told Listener magazine he believed 'Stairway To Heaven' was a "rip-off" of his own track with Jimmy and Robert regularly hearing 'Taurus' when Spirit supported Led Zeppelin in the late 1960s.
He said at the time: "The guys made millions of bucks on it and never said, 'Thank You', never said, 'Can we pay you some money for it?'
"It's a sore point with me. Maybe someday their conscience will make them do something about it."
Source: www.msn.com
Added by AutoAdmin
504 views