News
Metallica's LP will be complete by summer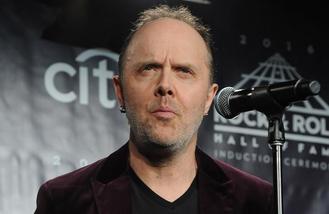 Metallica's album will be finished "this summer".
Drummer Lars Ulrich has given an update on their eagerly-anticipated 10th studio LP, which the heavy metal group began working on last November, and although he's not sure if it will drop in 2016 it will definitely be complete before the year is out.
In an interview with website Metal Forces, Lars revealed: "If the record doesn't come out this year, then It won't be because it's not done.
"It will be because there's some sort of cosmic reason that it would be smarter to hold onto it until next year. But the record will be done this summer."
The 52-year-old rocker - who is joined by James Hetfield, Kirk Hammett and Robert Trujillo in group - says this month is a crucial time as they will all get together to choose which songs will be on the final tracklist and come up with a name for the currently-untitled record.
He explained: "We're now coming towards the end of the musical creative process and we're starting to look ahead and the process of how we're gonna share this record with the universe.
"The months of June is basically when we're gonna sit down and figure what we're gonna do with it all; what we're gonna call it and what's gonna be on it."
The 'Master of Puppets' hitmaker also praised their engineer and producer Greg Fidelman for putting his "heart and soul" into the album.
He added: "Greg [Fidelman] is 24/7 on this record and has been since last summer. He's doing an insanely great job and has been putting his heart and soul in it pretty much every waking moment of his life in helping us engineer and produce this record."
Metallica's last release was 2008's 'Death Magnetic'.
Source: www.msn.com
Added automatically
816 views