News
Wiz Khalifa files lawsuit against former manager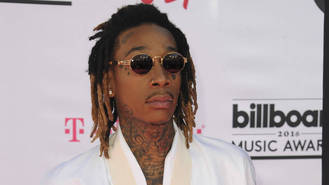 Wiz Khalifa has accused his former manager Benjy Grinberg of profiting at his expense by self-dealing.
The 28-year-old rapper filed a lawsuit at Los Angeles Superior Court on Tuesday (31May16) alleging that Grinberg and his Rostrum Records label behaved as "faithless fiduciaries in direct contravention of their obligations to him".
According to the legal documents, Khalifa alleges that he was "induced" to enter into a "360 agreement" after being signed to Rostrum back in 2004, when he was 16 years old. The deal stated that Khalifa would be exclusive to the Rostrum label, and Rostrum would share the income he earned as a songwriter, as well as through touring and merchandising. However, the lawsuit claims that Grinberg failed to disclose that there were alternative options on the table that could be more beneficial for the musician - instead choosing the deal with benefitted him and tied him to an agreement that "reached for more than a decade into virtually every aspect" of his career.
"An artist's most trusted advisor is his or her personal manager. Generally, nothing good comes out when the manager decides to go into business against his artist. Unfortunately, that is the case here," Khalifa's attorney Alex Weingarten told Variety.com, who first reported the news.
Khalifa made the decision to drop Grinberg as his manager back in 2014, and claimed that he could end his "360 agreement" with Rostrum under the California Labor Code's seven-year rule.
He is now seeking compensatory damages of more than $1 million. He is also asking for punitive damages and attorney's fees.
Grinberg told Variety in a statement that he is "very disappointed and surprised by today's news. To witness an artist turn on you after supporting them for a number of years is very disheartening.
"This is an egregious lawsuit filled with inaccuracies, yet unfortunately people sometimes resort to these practices as a way of conducting business."
Source: www.msn.com
Added by AutoAdmin
340 views