News
Jamie T's quit music due to anxiety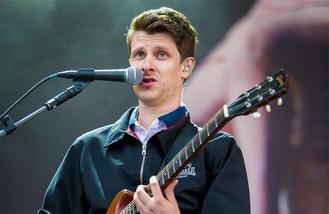 Jamie T's five-year absence from the music business was caused by his anxiety going "through the roof".
The 'Zombie' hitmaker has opened up about the debilitating condition that led him to shun the spotlight for half a decade as he struggled to cope with the big crowds at his gigs as his fame grew due to the success of his first two albums, 2007's 'Panic Prevention' and 2009's 'Kings and Queens'.
Jamie returned with his third album 'Carry on the Grudge' in 2014 and is preparing to release his new LP 'Trick' later this year but admits he still battles with anxiety, especially when fans want selfies with him.
In an interview with The Guardian newspaper, he explained: "After shows, people grab you and want to take photos with you, and my anxiety goes through the roof. People are looking at you funny. To this day, I find crowds quite difficult."
The British singer/songwriter is relieved that he can now be open about his condition as the public understanding of what anxiety is has improved so much in recent years, with even pop superstar Zayn Malik admitting he suffers from it.
Jamie said: "It wasn't in the public sphere. It's more acceptable to talk about it now than it was then. People were iffy about it.
"I continued to talk about it on other records and things and people tended to be like, 'What, you're still going through that?' People get weirded out by it.
He continued: "It's hard when your afflicted with a disorder of some type, and it can be kind of debilitating. I'm glad that it made some people feel better."
Jamie was thrilled with the response to his comeback album 'Carry on the Grudge' but he is still proud of the legacy of his first two long players.
He said: "It made me laugh. We printed up some merch for the tour, and the shirt that sold the most, which didn't surprise me at all, was the 'Panic Prevention' shirt, because all the kids really wanted that thing."
'Trick' will be released on 2 September.
Source: www.msn.com
Added automatically
594 views