News
Frank Carter wants butterflies on tour rider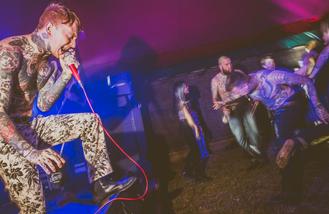 Frank Carter wants a "room full of butterflies" on his next tour rider.
The former Gallows frontman recently teamed up with US brand Sailor Jerry for motorbike event The Ride 2016, and while he has plenty of the company's rum in his dressing room before gigs, he is keen to be surrounded by the beautiful insects ahead of future shows.
The 32-year-old singer - who now operates as Frank Carter & The Rattlesnakes - exclusively told BANG Showbiz: "Alcohol is our vice, obviously plenty of Sailor Jerry and Coke, and we do a lot of clean eating.
"Maybe I'll ask for a room full of butterflies or a butterfly house?
"They'll say to me, 'You haven't used your butterfly house in a week,' and I'll be like, 'I know, they all look the same.' "
The music star recently performed to and partied with several bikers during The Ride - in which teams of motorcyclists were tasked with completing challenges during a gruelling nine-day tour across the UK - and he admitted the event had a "dramatic ending" after he set the final task.
He added: "I set a chilli eating challenge in honour of my mate Nick who lost his sense of taste after being kicked in the head at a gig would you believe.
"He is the king of chilli challenges but he wasn't there.
"The tour had a dramatic ending, I couldn't even watch the end of the challenge.
"Someone found a Carolina Reaper chilli from somewhere which is one of the hottest chillies in the world! Everyone was downing pints of milk."
Frank was involved in The Ride 2016 with Sailor Jerry. Follow the action at www.sailorjerry.com, Insta: @sailorjerry, Twitter : @SailorJerryUK, FB: www.facebook/sailorjerryuk or using #TheRideSJUK.
Source: www.msn.com
Added automatically
650 views