News
Bros comeback inspired by family tragedy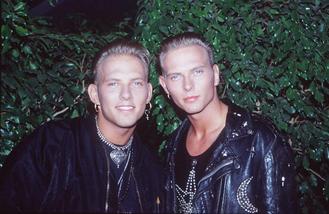 Matt and Luke Goss' Bros comeback has been inspired by their late mother.
The 48-year-old twins recently announced their return to the music industry following a 24-year break and have revealed that the loss of their mum Carol in 2014 was the reason behind their comeback.
Matt explained: "We lost our mother. That took a great toll on both me and my brother.
"That is the day you truly become men. What it has done is made us very deeply realise that we are such a family.
"You mess with my brother, you mess with me. We're proper double trouble.
"It's a beautiful thing to have each other's back in the way we do. And that intensity will make its way on stage too."
Luke explained that his mum's death was especially hard to accept because they are such a close family.
He told The Sun newspaper: "We have a very small family so when you lose people you love - sister, our mother, grandfathers who raised us with our mother - you start to put great value on it.
"Family has become a priority now."
Meanwhile, Matt admitted that his mum's death nearly sent him over the edge.
He shared: "There have been times when it's been dark.
"I had to make a decision when mum passed, I was either going to spiral out of control into nothingness or honour her blood and teaching, which was, 'Stay strong and keep moving, left foot, right foot, but remember to dance along the way'. That's exactly what I've done.
"Then I've come together with my best friend. Luke is my best friend and I trust him with my life."
The 'When Will I Be Famous?' hitmakers will return to the stage in 2017 at London's O2 Arena for a reunion concert.
Source: www.msn.com
Added automatically
712 views