News
Toni Braxton back home after lupus scare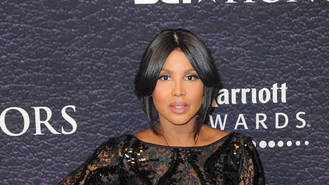 Toni Braxton is relaxing at home after a weekend stay in the hospital.
The singer was hospitalised in Los Angeles due to issues related to her battle with lupus, but she was discharged on Monday and is now recovering as she focuses on an upcoming hits tour.
"Toni is resting at home and she is fine," the singer's representative tells The Hollywood Reporter. "She was in an L.A. hospital for a few days being treated for her lupus... She has been released and starts rehearsals for her upcoming tour this week."
Her rep also played down reports suggesting the Unbreak My Heart singer was in a serious condition and that her boyfriend, rapper Bryan 'Birdman' Williams, had jetted in from Texas to be by her side.
"She was not in serious condition," the spokeswoman adds, "but lupus is a serious disease and must be monitored at all times."
Braxton's sister Towanda also assured fans the singer was fine, revealing Toni was "home safe & sound" in a tweet.
Braxton first revealed her lupus diagnosis in 2010 when she accepted a Woman in Achievement award from the eighth annual Lupus L.A. Bag Ladies Luncheon.
She went public with her family's history with the disease in 2012 when she was hospitalised, revealing, "Some days I can't balance it all. I just have to lay in bed.
"Pretty much when you have lupus you feel like you have the flu every day. But some days you get through it. But for me, if I'm not feeling well, I tend to tell my kids, 'Oh Mommy's just going to relax in bed today'. I kind of take it easy."
She's not the only singer battling the chronic illness - Selena Gomez revealed her battle with lupus last year in a Billboard cover story. She recently announced she was taking a break from touring and other music-related commitments to refocus on her battle with the disease.
Source: www.msn.com
Added automatically
735 views