News
Becky Hill drops new single WARM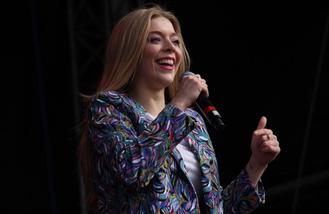 Becky Hill has dropped her brand new single 'WARM'.
The 22-year-old pop beauty - who shot to fame on the first series of 'The Voice UK' in 2012 - teamed up with electronic producer Shift K3Y for the track and the 'Afterglow' singer says it's the first time she has felt like herself on a song.
Of the track, she said: "'WARM' is a product of a great friendship between myself and Shift K3Y. The follow up to 'Back To My Love', it's a reinforcement of who I am as an artist, and a reminder of how excited I am to put my own music out. Being released on my own label, I've never felt more me with the release of 'WARM'!"
'WARM' is the follow-up to 'Back To My Love' featuring Little Simz and her Top 40 hit 'False Alarm' with Matoma. Becky has been working on her debut record for a couple of years and hopes to release it sometime this year.
Speaking exclusively to BANG Showbiz, she previously said: "It's literally 99 per cent done so we're ready to release next year. I really don't feel any pressure. The only pressure I feel is from the fans who I want to give new music to."
However it's been a long time in the making which means she's struggled to pick the songs for the LP, as there are so many to choose from.
She admitted: "Over the past three years I've written about 250 songs, so there's a lot of music there, but some of the songs that I am singing now, I wrote two years ago when I was 19. So I'm writing all the time for my project as well as writing for other people, so there's a lot of people there and it's just about trying to get that good five per cent that will make that first album."
And while she's most well-known for lending her vocals to huge dance hits such as 'Gecko (Overdrive)' by Oliver Heldens, she's not keen to feature on too many more for the time being because she needs to focus on her own music.
She explained: "What's difficult is giving away a song to an artist and them wanting me to sing on it, and then me being like, 'I can't sing it, because I can't feature on everybody's song' and them saying, 'Yeah, but we can't find anyone who sings it like you do' and I'm like, 'Yeah because I wrote it!' But then they're like, 'We're not putting this out unless you sing on it!'"
'WARM' is out now.
Source: www.msn.com
Added automatically
761 views