News
Katie Melua says her breakdown was a 'wake-up call'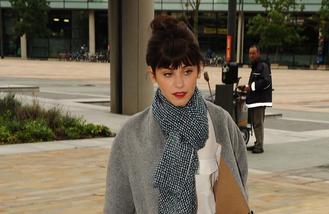 Katie Melua says being hospitalised in 2010 was "one of the best things" that has happened to her.
The 'Closest Thing to Crazy' hitmaker spent six weeks in hospital after having a breakdown and suffering from exhaustion and while it was a scary time in her life she looks back on it in a positive light because it made her realise she isn't invincible and able to do everything.
In an interview with The Independent newspaper, she admitted: "It was one of the best things that ever happened to me. It was petrifying, but it put a stop to the fantasies of being able to do anything. The oddest thing about this job is the sense of superiority you get It was a huge wake-up call."
The Georgia-born beauty is gearing up to release her new LP 'In Winter' on Friday (14.10.16) and has teamed up with the Gori Women's Choir - a group of 23 female singers, who are masters of the Georgian tradition of polyphonic singing - for the record and Katie, 32, says they taught her that music is the most important thing, not having an ego.
Reflecting on that time in her life, she said: "I was completely out of it for two weeks, and in hospital for six. There was a bunch of things going on, things at home and crazy work schedules, and you really believe the world revolved around you and it doesn't.
"What I've picked up from working with the women in the Gori choir is that they don't have egos. All that matters is the music."
Katie will head out on a tour in support of the new album - her first since 2013's 'Ketevan' - with the Gori Choir in November.
The shows include a date at London's Theatre Royal and will conclude at Glasgow's Old Fruitmarket on December 3.
Kate Melua's UK dates:
Wed 23 Nov 16 Guildford, G Live
Thu 24 Nov 16 Bristol, Colston Hall
Fri 25 Nov 16 Southampton, O2 Guildhall
Sun 27 Nov 16 London, Theatre Royal Drury Lane
Mon 28 Nov 16 Leicester, De Montfort Hall
Tue 29 Nov 16 Liverpool, Philharmonic Hall
Thu 01 Dec 16 Birmingham, Symphony Hall
Fri 02 Dec 16 Manchester, Bridgewater Hall
Sat 03 Dec 16 Glasgow, Old Fruitmarket
Source: www.msn.com
Added automatically
730 views