News
Justin Bieber's wax figure is wet and semi-naked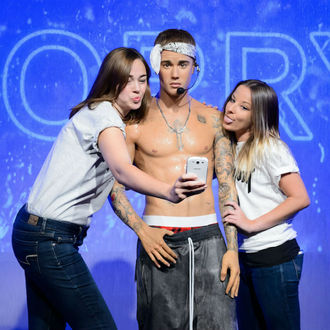 As Justin Bieber's wax figure was revealed on Sunday 9 October, some onlookers were surprised.
Biebs has made it clear that his personal space is at the top of the list of reasons to kick off at his own fans. So when Madame Tussauds made the singer topless, some fans rejoiced, others were confused.
The singer has only recently refused a hug from a fan, kicked off about trying to do some Spring cleaning whilst on stage, and point blank refused a present from another fan. So it truly is only in this context that fans could get up close and personal to the singer. Even if he is made out of Ikea candle wax.
Wax Biebs, who is silent, and probably the best version of the singer, will officialy be wet all the way through to the 30th October.
The wax figure has been praised for getting Bieber's Zoolander's Blue Magnum impersonation perfect.
His plastic figure may look somewhat upset, but given that Bieber will be playing London's 02 this whole week, his mood might just be lifted.
You can get tickets to Justin Bieber's UK tour, here. He will also be playing the following dates:
Tue October 11 2016 - LONDON O2 Arena
Wed October 12 2016 - LONDON O2 Arena
Fri October 14 2016 - LONDON O2 Arena
Sat October 15 2016 - LONDON O2 Arena
Mon October 17 2016 - BIRMINGHAM Barclaycard Arena
Tue October 18 2016 - BIRMINGHAM Barclaycard Arena
Thu October 20 2016 - MANCHESTER Arena
Fri October 21 2016 - MANCHESTER Arena
Sun October 23 2016 - MANCHESTER Arena
Mon October 24 2016 - BIRMINGHAM Genting Arena
Wed October 26 2016 - SHEFFIELD Arena
Thu October 27 2016 - GLASGOW SSE Hydro
Sat October 29 2016 - GLASGOW SSE Hydro
Sun October 30 2016 - GLASGOW SSE Hydro
Tue November 01 2016 - DUBLIN 3Arena
Wed November 02 2016 - DUBLIN 3Arena
Mon November 28 2016 - LONDON O2 Arena
Tue November 29 2016 - LONDON O2 Arena
Source: www.msn.com
Added automatically
597 views