News
Carrie Underwood: 'Being a working mother is not glamorous'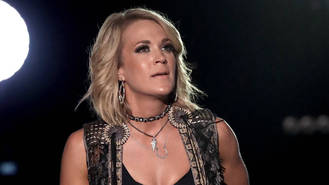 Carrie Underwood feels guilty about being a working mother.
The 33-year-old singer gave birth to son Isaiah, her first child with husband Mike Fisher, in February 2015. While the concept of being a touring popstar might seem glamorous, Carrie admits that doing her job with a toddler in tow is less than ideal.
"Sometimes I feel guilty that this is my son's life: We live on a bus and we're in a hotel room and sometimes we're in the middle of nowhere and it's not so great," she told Redbook magazine. "It's not all glamorous.
"When I was pregnant, I thought, How am I going to go on the road? How am I going to keep doing my job? I had to just give it to God and stop worrying about it. Sure enough, we figured it out."
Another thing Carrie struggles with is accepting help from her loved ones. While she does her utmost to do everything herself, the Church Bells singer is well aware there are some things she could use a hand with.
Asked during the interview what advice she would give other first-time mothers, Carrie replied: "Ask for help. Accepting help is hard for me, but I'm learning.
"We have a nanny who helps out, especially when we're on the road. But I'd feel guilty asking someone to watch him at home while I run to the grocery store."
Despite the difficulties involved with parenthood, Carrie wouldn't change it for the world. Revealing motherhood has changed her as a person, the stunning singer adds her little boy brings her joy every day.
"I'm happier (since having Isaiah). I'm in a better mood a lot of the time," she smiled. "He'll be watching cartoons and I'll be watching him. I'm completely in love. I love it when he's sleepy and I get to hold him and smell him. He doesn't know I'm staring at him and being all googly-eyed!"
Source: www.msn.com
Added automatically
582 views