News
Muse plan to 'levitate on mangnets' on their next tour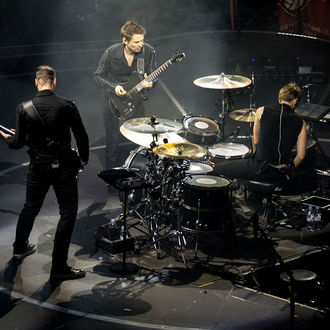 Muse are planning to push the boat even further that they did on their Drones tour by 'levitating on magnets'.
On the Drones tour they peformed in the middle of the arena and had Drones flying around the crowd, giving people a unique visual and audio experience. However, the band could play without any effects and still blow people's minds, but they're continually pushing the boat out.
News of their next plans - which are in the embryonic stage - were revealed by their tour director Glen Rowe, of Cato Music, who was speaking during the management panel at this week's MUSEXPO Europe conference in London, reports Music Week.
"It is ridiculous, but trying to dream up something more adventurous is always our challenge, where does the next bolt of lightning come where you capture the essence of it and trying to put it into a record or a tour, it's definitely my permanent challenge.
"We want to do a stage made of magnets so the band can levitate on other magnets. It's those questions that keep me awake every night of my life. If there are any magnet technicians out there, please come and see me because that's what we're trying to achieve," said Rowe.
Rowe also cast light on how the trio's ambitious vision was brought to life for the Black Holes & Revelations stadium shows in 2007. "I remember the conversation when we decided we were going to have a huge UFO that was going to spit out a trapeze artist in a stadium," he said. "I thought it was a drunken, throwaway comment that I'd never have to worry about.
"The next day I get the email from one of the band members saying, Get me a UFO that spits out a trapeze artist. I spent months of my life figuring out how to do that."
Rowe said he was able to make it happen with "a lot of helium and a tightrope walker who was stupid enough to sign my contract," he laughed.
Source: www.msn.com
Added automatically
710 views