News
Britney Spears suffers wardrobe malfunction onstage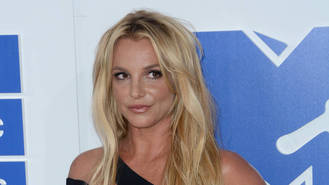 Britney Spears narrowly escaped exposing her breast on Saturday (22Oct16) when her top fell down during her Las Vegas residency.
The singer was performing her cover of I Love Rock 'N' Roll during her Piece of Me show at the Planet Hollywood Resort & Casino when her striped and studded bra top became unhooked.
Footage from the concert shows two male dancers trying to fix the black straps and black collar from the back as Britney continues to sing and dance to the track. They initially appear to secure the top, prompting the pop star to begin clapping above her head, but when the straps become loose again, she quickly clutches her costume to her chest to prevent it from revealing more of her left breast.
Britney struggles with the wardrobe issue throughout the rest of the song, but does her best to keep the show going.
It wasn't her only clothing malfunction over the weekend - she also appeared to have trouble with her outfit during a performance of Gimme More. Other fan footage depicts Britney wearing a cropped denim top over her broken bra and fiddling with it as if she's having further fitting problems, causing one of the male dancers to hand her his sleeveless plaid shirt, which she buttons up while bent down in the middle of a circle of dancers.
Britney is no stranger to wardrobe malfunctions onstage - most recently, the zipper on her leotard split from her neck down to her bottom, exposing her back and the top of her underwear as she performed her song 3. Her male dancers once again tried to fix it, but she was forced to run backstage and change costumes.
Source: www.msn.com
Added by AutoAdmin
434 views