News
Unheard Prince songs set for release on two new LPs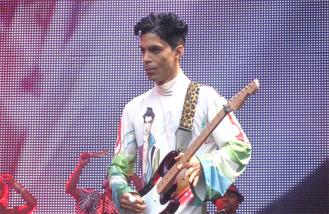 Unheard Prince songs are to be released on two new posthumous albums.
The 57-year-old singer was found dead at his Paisley Park estate in April and now music from his legendary vault are to feature on two new records, 'Prince 4Ever' and a remastered version of 'Purple Rain'.
The first new recordings since his passing on April 21, from an accidental overdose of the drug fentanyl, will go on sale through NPG Records and Warner Bros. Records.
'Prince 4Ever' will be available to buy on November 22 in the US and November 25 around the world, and includes 'Moonbeam Levels' - a previously unreleased song originally recorded in 1982 during the 1999 sessions and later considered for the never released 'Rave Unto The Joy Fantastic' album.
It will also come with a 12-page booklet of never-before-seen photos by acclaimed photographer Herb Ritts.
The deluxe version of 'Purple Rain', was agreed with the 'Kiss' hitmaker before he died, and includes a second album of previously unreleased material, with more details to be revealed closer to the release date, which is sometime next year.
It comes after it was revealed that Prince entered the list of top-earning dead celebrities.
Sales of Prince albums soared in the immediate aftermath of his death in April and he is listed at number five in the chart by Forbes magazine, with estimated earnings of $25m for 2016.
The track-listing for 'Prince 4Ever' is as follows:
1. '1999'
2. 'Little Red Corvette'
3. 'When Doves Cry'
4. 'Let's Go Crazy'
5. 'Raspberry Beret'
6. 'I Wanna Be Your Lover'
7. 'Soft and Wet'
8. 'Why You Wanna Treat Me So Bad'
9. 'Uptown'
10. 'When You Were Mine'
11. 'Head'
12. 'Gotta Stop (Messin' About)'
13. 'Controversy'
14. 'Let's Work'
15. 'Delirious'
16. 'I Would Die 4 U'
17. 'Take Me With U'
18. 'Paisley Park'
19. 'Pop Life'
20. 'Purple Rain
21. 'Kiss'
22. 'Sign 'O' The Times'
23. 'Alphabet Street'
24. 'Batdance'
25. 'Thieves In The Temple'
26. 'Cream'
27.'Mountains'
28. 'Girls & Boys'
29. 'If I Was Your Girlfriend'
30. 'U Got The Look'
31. 'I Could Never Take The Place of Your Man'
32. 'Glam Slam'
33. 'Moonbeam Levels'
34. 'Diamonds and Pearls'
35. 'Gett Off'
36. 'Sexy MF'
37. 'My Name Is Prince'
38. '7'
39. 'Peach'
40. 'Nothing Compares 2 U'
Source: www.msn.com
Added automatically
734 views