News
Kesha's attorneys file motion to block Dr. Luke from releasing medical records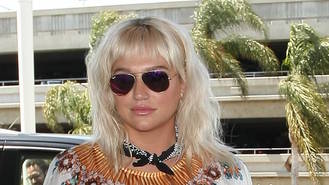 Kesha's lawyer have filed papers to keep her medical records private as her legal spat with mentor and producer Dr. Luke continues.
The 29-year-old singer has been embroiled in legal action against her Kemosabe label boss since 2014, when she accused him of emotional and physical abuse, which he denies.
As part of her legal battle with the producer, real name Lukasz Gottwald, the Tik Tok hitmaker was ordered to turn over medical records pertaining to the alleged abuse after Gottwald requested them in May (16), in a bid to disprove her claims. She now reportedly worries Gottwald will release her gynaecological, psychiatric and rehab records, which date back 10 years, according to the New York Post's Page Six.
"Ms. Sebert now fears that Gottwald will seek to disclose and disseminate her personal medical records in an attempt to embarrass and harass her," attorney James Pearl wrote in a motion to Manhattan Supreme Court Justice Shirley Werner Kornreich.
"Ms. Sebert has disclosed highly sensitive personal medical records as part of this litigation, and her position as a world-renowned recording artist in whom there is great public interest renders any potential disclosure of those records potentially harmful to her personal and economic interests," he continued.
The parties' lawyers are due back in court later this month (Oct16) for a hearing on the motion.
Dr. Luke has not commented on the motion, but the news comes a month after the music producer filed a second defamation lawsuit against Kesha's mother.
Dr. Luke claims Pebe Sebert has continued to defame him since her daughter accused him of abuse back in 2014.
Gottwald, originally filed a defamation suit against Sebert in 2014, but added another in September (16).
Source: www.msn.com
Added automatically
581 views