News
Laura Mvula: 'Sometimes I feel like nobody cares'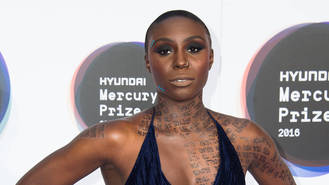 Laura Mvula often feels "excluded" from the world of mainstream music.
The Green Garden singer has made a name for herself with her unique sound, earning her three BRIT nominations and two MOBO Awards. Even though she has a massive fan base, Laura isn't immune to moments of self-doubt when it comes to her talent.
"Sometimes I've gotten sad about the fact that I have felt sometimes excluded in the mainstream, like the big cats of today like the Kendrick Lamar's of the world, the Beyonce's, the Janelle Monae's, the whoevers, sometimes I feel like nobody knows and nobody cares," she sighed to Rolling Stone Australia. "And then I'm reminded that the people that champion my stuff have come to be the living legends, or people that we've lost in the last year. So I, you know I tried to encourage myself with their literal encouragement."
Her confidence was certainly boosted when she performed a rendition of Michael Jackson's Wanna Be Startin' Somethin' for the BBC Proms in August (16) in front of music extraordinaire Quincy Jones, which she describes as one of the "highlights" of her life. She recalls experiencing "pure joy" while belting out the hit track and was overtaken by a wave of emotion.
"Being overwhelmed with the honour of playing tribute to Michael and in the presence of his mentor (Quincy), you know, it was an amazing privilege," she recalled.
Laura, 30, released her latest album The Dreaming Room this summer (16), following on from her successful debut Sing to the Moon. Despite it receiving much critical acclaim the star admits she felt a great deal of pressure to record material the second time round.
"I had to take time out of the whirlwind of what it means to put out an album when you're signed to a major label and all the implications of that," she recalled. "I knew I wanted to make a bigger album..."
Source: www.msn.com
Added by AutoAdmin
481 views