News
Paloma Faith welcomes first child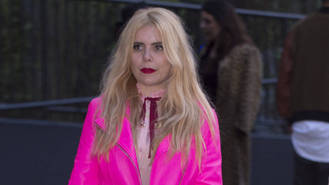 Paloma Faith has given birth to her first child.
On Monday (05Dec16), the singer posted a handwritten message on her Instagram page, in which she announced that she and her French artist boyfriend Leyman Lahcine had become parents.
In the message, Paloma, 35, shared that she had been forced to undergo an emergency caesarean section after a "difficult labour", but had given birth "to my first child with whom I am over the moon, in love and delighted. What a trip!"
Paloma made no mention of the baby's gender, name or weight in her message, but instead went on to praise the National Health Service (NHS) staff at University College Hospital in London.
"It was all with the help of some incredible doctors, midwives and nurses at UCH NHS Hospital," she wrote. "The devotion, kindness and commitment shown by all of them was second to none and I am humbled by the whole experience.
"I really believe the NHS to be one of the greatest achievements of this country, and it should be respected and protected by all. I am humbled by the unfaltering dedication I witnessed and received there. So thank you to the NHS, Melissa Whitten, Georgia Seiti, Wendy Hill, all in the Fetal Assessment Unit and the Maternity Care Units. And god bless the NHS!"
Stone Cold Sober singer Paloma captioned her note on Instagram by writing: "God bless the NHS!!! #angelsonearth #iamamother."
Her method of announcing the birth of her baby was identical to the way she told fans she was pregnant, when she posted another handwritten note revealing the happy news back in August (16).
"I am so delighted to tell you I am going to take a short while off to have a baby," she scrawled at the time. "I spent my whole life wanting to be a mother and now the time has come for me to do so. I feel so lucky."
Source: www.msn.com
Added automatically
691 views