News
Phil Campbell haunted by Lemmy Kilmister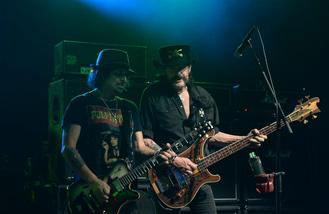 Former Motorhead guitarist Phil Campbell feels haunted by the late Lemmy Kilmister.
The iconic frontman passed away almost a year ago on December 28, 2015 after suffering from inoperable prostate cancer as well as congestive heart failure and cardiac arrhythmia, and his former band mate says he often "can't get to sleep" because the rocker is still in his thoughts.
Speaking to radio station Planet Rock, the 55-year-old guitarist said: "He's in my mind all the time, like. I can't get to sleep some nights because he's f***ing asking me for cigarettes, things like that."
The 'Ace of Spades' hitmakers formed in 1975, but it wasn't until 1984 that Phil met Lemmy and tried out for the band, and he recently opened up about his "daunting" audition.
He said: "When I went into the audition it was only a small room. A roadie gave Lemmy his bass, he turned the volume up and strummed the first chord.
"I just thought, 'Bloody hell, this is loud'. And I kind of enjoyed it. We'd be having volume games ever since.
"It was daunting, but I was up for the job. I was capable, I thought. I had a bit of luck on my side on that day. I wouldn't have missed it for the world."
Motorhead parted ways after the death of Lemmy, with drummer Mikkey Dee going on to join The Scorpions, and Phil himself concentrating on his own band which features his three sons Todd, Dane and Tyla, whom he shares with his wife Gaynor Campbell.
Metallica's James Hetfield recently spoke out in support of the late music icon, saying he should be inducted into the Rock and Roll Hall of Fame.
He said: "With the passing of Lemmy, it's really, really important for me to see Motorhead acknowledged in that - because there's no more rock 'n' roll person on this planet than Lemmy."
Source: www.msn.com
Added automatically
671 views