News
Katy Perry tops online serial celebrity dating study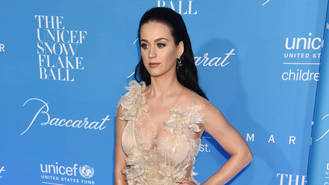 A new online study has revealed Katy Perry is the world's biggest serial celebrity dater.
The Firework star, who was briefly married to Russell Brand and is currently dating actor Orlando Bloom, has beaten out Justin Bieber and longtime rival Taylor Swift to top Pokies' new love hook-ups list.
Her fling with John Mayer and reported love interests Jared Leto, Diplo, and Robert Pattinson also helped her debut at the top, while Swift comes in third thanks to romances with Mayer, Harry Styles, Jake Gyllenhaal, Calvin Harris, Taylor Lautner, Joe Jonas, Cory Monteith, Patrick Schwarzenegger, and Tom Hiddleston, with whom she enjoyed a romance earlier this year (16).
"To unravel the celebrity dating universe and give you a serious celebrity fix, Pokies has created the ultimate tool designed to reveal who's dated who, and who's dated the most," a spokesman for the site tells WENN. "The smart spider diagram tool connects the stars of today's stage and screen to every old flame and new romance, uncovering the gossip and the back stories behind the world's most talked-about celebrity romances.
"Pokies' extensive research took an in depth look at the 50 most famous names, selected according to the most substantial followings on Twitter and Instagram, delving into their romantic histories. From rumoured hook ups and love-lorn relationships, to whirlwind marriages and sordid affairs, each celebrity's little black book was investigated and carefully calibrated to reveal the most infamous celebrity daters."
Pokies' interactive celebrity dating infographic is now available via pokies.net.au/celebrity-dating-universe.
The top 10 serial celebrity daters are:
1. Katy Perry
2. Justin Bieber
3. Taylor Swift
4. Rihanna
5. Justin Timberlake
6. Britney Spears
7. Kim Kardashian
8. Cristiano Ronaldo
9. Drake
10. Leonardo DiCaprio.
Source: www.msn.com
Added automatically
783 views