News
Harry Styles duets with cancer-stricken fan during FaceTime chat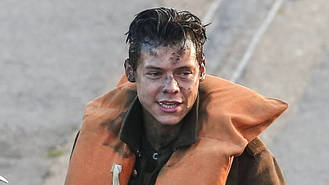 One Direction star Harry Styles performed a duet with a fan battling cancer after he FaceTimed her in hospital.
The 22-year-old singer teamed up with the Make-A-Wish foundation to give Ollie Oxen, a huge fan of the boy band and Harry in particular, her dream phone call.
As well as cheering Ollie up with his words, he also led her in a rendition of his song If I Could Fly.
His kindness was revealed by Ollie's mother, who wrote on Facebook page on her behalf: "Well, Harry did not disappoint. It was an incredible video chat that O had today with her long time fave pop idol. It was so incredibly touching - they sang a song he wrote together, her fave... If I could Fly.
"It was such a blessing for her to have this moment with him - and from what he shared, it was just as amazing for him. There wasn't a dry eye in the room or in the (U.K.). So very thankful we were able to make this happen so quickly."
Ollie's mother also shared a snap of her daughter wearing a T-shirt with an image of Louis Tomlinson and Zayn Malik on it as she FaceTimed Harry, who looked smart in a black and white shirt for the call.
Ollie, full name Olivia, was diagnosed with cancer in January (16) and is now battling central nervous system relapse (CNS) alongside her condition. Her mother has also set up a Gofundme page for her daughter, in a bid to raise money so she is able to stay with Ollie in hospital while she is undergoing treatment. So far, $47,068 (£38,000) of the $50,000 (£40,200) goal has been raised.
This isn't the first time Harry has turned to FaceTime to make a fan's wish come true. In April (16) he FaceTimed Venezuelan One Direction mega fan Andrea Casique through Make-A-Wish, with their call lasting 35 minutes.
Source: www.msn.com
Added automatically
656 views