News
Bruce Springsteen supported through depression by wife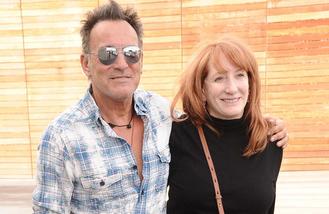 Bruce Springsteen's wife helps him pull "back into his life" when he is gripped by depression.
The 67-year-old musician revealed earlier this year he was "crushed" by the disease in his early 60s, and says his spouse Patti Scialfa helps him see how "blessed" his life is when he is experiencing one of his dark periods.
He said: "Patti's very helpful, and sometimes just time. Or sometimes the correct medication, you need the right drugs. That can really help also.
"These are all things that can pull you back into your life and certainly in my case how blessed my life has been.
"I have developed some skills that help me deal with it but still, it is a powerful, powerful thing, it really comes up and there are things that still remain unexplainable to me."
The 'Born in the USA' singer admitted even now the difficult relationship he had with his father has a huge influence on his career.
Speaking to Kirsti Young on BBC Radio 4's 'Desert Island Discs', he said: "I am trying to go back and make sense of things that at the time were unfathomable. That continues to this day.
"I constantly go back and I put my father's clothes on and I walk out on stage and I present some version of him and myself to my audience. Why am I doing that?
"I am trying to find the piece of it which would lead to a transcendence over the circumstances that I grew up in.
"My dad had a sort of gruff exterior but inside he could be quite soft and sensitive.
"The qualities he had inside were the things I wore on the outside. They were just difficult for him to deal with."
And Bruce admitted his clean-cut persona is a reaction to his "chaotic" childhood.
He said: "What I was interested in doing was creating some order and a safe environment for myself because my childhood felt very unsafe."
The 'Dancing In the Dark' hitmaker also admitted he honed his dancefloor moves for hours when he was younger in a bid to impress girls.
He said: "Before I played the guitar I realised that girls loved to dance. So I spent quite a bit of time in my own mirror practising the different dance moves of the day [until] I was good enough to get the girl."
However, he wasn't very confident about his "pretty hideous" appearance.
He added: "I would use my mother's hairclips to pin my hair down and then I would sleep on it exactly right on the pillow because I had Italian curly hair."
Source: www.msn.com
Added automatically
683 views