News
Ed Sheeran's third album gets release date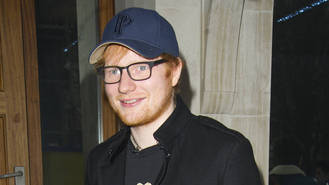 Ed Sheeran has set a release date for his hotly anticipated third album.
The British singer-songwriter's latest offering, ÷ (Divide), will drop on 3 March (17), and follows on from his first two offerings + and x. Ed further sent fans into a frenzy by sharing the track listing on his social media pages.
Singles Castle on the Hill and Shape of You have already been released as digital downloads, and Ed has now shared his gratitude to fans for supporting the new material.
"The reaction to my new singles has been absolutely mind-blowing and I can't thank you enough," he said in a statement, according to NME. "My new album ÷ holds a very special place in my heart and I really believe this is my best work to date. I've been eager to get back and I couldn't be more excited for March 3rd."
In a recent interview the 25-year-old singer admitted that he wasn't bothered if his new sound wasn't a hit with fans as he's already received praise from his musical idols. Speaking to Britain's Radio X he recalled how Van Morrison told him how much he loved him, while Eric Clapton praised the musician during a dinner at Ed's house.
"Those are the two people that got me started in music and they like me," Ed added. "Why the hell would I care about someone I've never met... I don't know their opinion and I don't know them as people. But I do know that my heroes like my music, so I don't care if I'm credible or not (to the public), because in their world I am and that makes me credible in my world."
Ed also revealed earlier this month (Jan17) that the Justin Bieber track he penned, Love Yourself, was initially meant for his forthcoming album, however he passed it over as he thought it was unlikely he'd recorded it.
Source: www.msn.com
Added by AutoAdmin
310 views