News
The Weeknd: 'I've not got swagger like Idris Elba'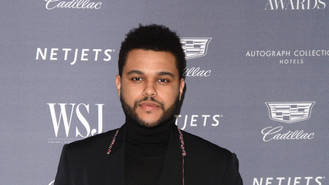 Singer The Weeknd knows girls only want him because he's famous.
The Canadian star exploded onto the music scene with his debut album Kiss Land in 2013, which featured rapper Drake on one of the tracks.His star has continued to soar, and he's become almost as famous for his beautiful girlfriends including Bella Hadid and rumoured new squeeze Selena Gomez. But The Weeknd, real name Abel Tesfaye, is under no illusions about his pulling power, and knows it's all to do with his career choice.
"Listen, I'm not walking around like f**king Idris Elba, know what I mean?" he told America's GQ. "It's like (points at himself) you'll probably describe me in this f**king thing. I'm not—look at me, this is who I am. I'm not gonna walk into the club and be like, 'Oh s**t, I'm the sexiest guy in here.'
"The reason why they want to f**k with me is because of what I do (in the studio). So I'd rather just focus on doing that."
The 26-year-old released his third album, Starboy, in November, and it went straight to the top of the U.S. charts, as well as hitting number one in Canada, Australia and Sweden, among other countries.
Up until recently The Hills singer had been known for his trademark dreadlocks, but he cut them off in an attempt to "blend in".
"I worked really hard on this album. And I felt like I need to relieve a lot of stress. (Cutting off my hair) feels good, 'cause I get to blend in," he shrugged. "If I want to go to a club, I can just go and I'm not there. I can go to a restaurant and I'm not there. I look like everybody else, which is boring, but maybe I just want to look like everybody else for a bit."
Source: www.msn.com
Added by AutoAdmin
333 views