News
Brandy & Ray J fell out in the kitchen on cooking show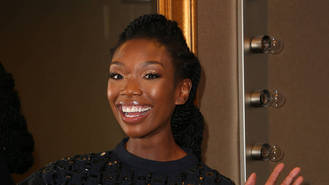 R&B star Brandy has ruled out another reality cook-out with her brother Ray J, because she can't stand him in the kitchen.
The singer and actress and her singer brother teamed up for new U.S. cookery contest My Kitchen Rules but she admits it may have been a big mistake because the siblings didn't get along as they were grilling and baking.
"He's not the weak link, but he's the soux chef..." she tells Access Hollywood Live. "He does the cutting and he does all the teasing... but he does get on my nerves in the kitchen."
Brandy was surprised she and her brother kept falling out, because normally they're the best of friends.
"We're just very very close, we have the same humour, we laugh all the time," she adds. "Working with him, it doesn't feel like work, except when we're in the kitchen. I never wanna cook with Ray J again - ever!"
Meanwhile, Ray J is dealing with another reality TV drama in England after a toothache forced him to quit Celebrity Big Brother.
The One Wish star left the show last week (10Jan17) to seek emergency treatment for several dental issues, and as a result he was kicked off the show.
"I'm really hurt by it because I felt like I was doing well," he said. "I was having such a good time. I felt like I was connecting with the British fan base... What's sad is they won't let me do the show any more they won't let me back in the house it's not fair to me."
Source: www.msn.com
Added automatically
608 views