News
Celine Dion shares emotional video tribute to late husband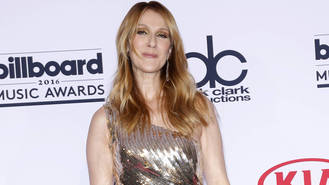 Celine Dion marked the one-year anniversary of husband Rene Angelil's death on Saturday (14Jan17) by sharing a touching video.
The 48-year-old star posted the video, remembering her spouse's life and success, on her Facebook page. Rene, who was the My Heart Will Go On hitmaker's manager of 21 years, died of throat cancer at the age of 73.
"It's been a year since Rene left us," she captioned the video. "He will always be in our hearts."
Set to an emotional score, the footage features rare family photos of Rene's days growing up in Montreal, Canada - beginning with a sweet snap of him as a baby and ending with a touching kiss from Celine.
There's also unseen footage of Rene's time with his short-lived Canadian pop rock group The Baronets from the 1960s. After the band split, he became a music manager, and discovered a 12-year-old Celine in 1980.
The video shows footage of those early days, when Rene signed the young French-Canadian star and mortgaged his home to pay for her debut album, La Voix Du Bon Dieu.
Celine later posted a second video on Facebook, in tribute to her late husband and father of her three children, Rene-Charles, 15, and twins Nelson and Eddy, six.
In the heartbreaking home video, Celine is seen touching photographs of Rene and her family, while clutching a heart-shaped pillow to her chest on her bed with tears in her eyes. "My memory loves you, it asks about you all the time. Especially today... One year later, I wish R.I.P. meant Return If Possible. Forever yours, Celine xx..." she captioned the footage.
An a cappella version of a new track from the singing superstar accompanies the video, in which she sings, "My love, you have found peace."
After the death of her husband, Celine had to deal with the crushing loss of her brother just two days later. Daniel Dion passed away aged 59 on 16 January (16) following a battle with throat, brain and tongue cancer.
Source: www.msn.com
Added automatically
612 views