News
Alicia Keys delivers blistering speech on women's rights at Washington protest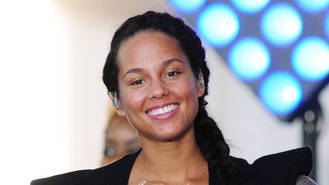 Alicia Keys recited a poem on equality and gave a blistering speech on female rights at the Women's March in Washington, D.C.
The 35-year-old took to the stage on Saturday to address more than one million women and men who had taken to the streets of the U.S. capital to protest President Donald Trump's stance on women's rights.
"We rise!" the mother-of-two began her speech, after reciting a few lines of Maya Angelou's poem, Still I Rise. "Out of the huts of history's shame, I rise, up from a past that's rooted in pain, I rise."
The Empire State of Mind hitmaker kicked off proceedings at the march in Washington, and delivered a powerful speech to those who had gathered at the demonstration, just one day after Trump's inauguration.
"We will not allow our bodies to be owned and controlled by men in government, or men anywhere for that matter. We will not allow our compassionate souls to get stepped on. We want the best for all Americans, no hate, no bigotry, no Muslim registry," Alicia passionately shouted.
"We value education, healthcare and quality. We will continue to rise until our voices are heard until our planet's safety is not deferred, until our bombs stop dropping in other lands, until our dollar is the same dollar as a man's.
"And we continue to recognise that yes, we can! Until everyone respects mother energy, and everyone with a belly button must agree! So I need you to repeat after me: We are here! We're on fire! Living in a world that's on fire! Feet on the ground! Not backing down!" she chanted, before singing the chorus of her 2012 hit Girl on Fire.
Alicia later took to Instagram to share a series of snaps from the historic day, including one of her with fellow singer Janelle Monae. "Today was a day of sisterhood and no matter where you were today we stood together in solidarity!! #WomensMarch #WhyIMarch #WomensRightsAreHumanRights #WeAreHere," she wrote alongside the photo of the pair hugging and smiling for the camera.
Source: www.msn.com
Added automatically
550 views